Join the COBOA
If you wish to join the COBOA, Click Here to fill out an application.

---
Not a Licensed Official?

Click Here to go to the OHSAA page for becoming a licensed official.

Welcome to the COBOA
Welcome to the new members of Central Ohio Basketball Official's Association. Please mark your calendars for the New Member Orientation Meeting scheduled on Monday, October 30....600 p.m. start.....Upper Arlington High School. We encourage any official with five years or less experience to attend. Additionally, if you know of anyone interested in becoming an OHSAA Basketball Official, registration for the new class is currently open. Please direct anyone interested to OHSAA.org and look for Central Ohio Basketball Official's Training. Registration will close at midnight on September 1.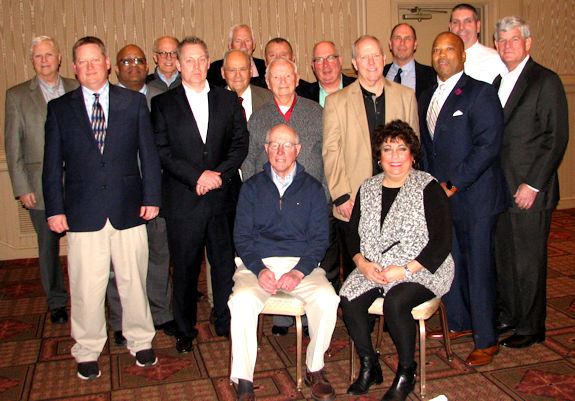 Past Presidents who attended the 2019 COBOA Banquet
Ask the Expert
Kurt, this was the one in question I asked about... after reading this you may want to inform the one that asked the question that yes this would be a violation because once the foot was raised they have front court status with the ball being held and the foot raised no longer has back court status. Had they started a dribble with the ball dribbled in the back court and never landing in the front court and lift the foot from back court placing it back down in back court then no violation. Her was the play in question. A1 has the ball in the backcourt. A1 passes it to A2, who catches it in the air and lands straddling the half court line. A2 then pivots on their foot that's in front court, the other foot is life's off the floor but doesn't touch the floor again until it comes back down in the back court again. Is this an over and back violation? I ruled no, due to the fact that all 3 points were not established in the front court. Click Here to read the Expert's answer.