Join the COBOA
If you wish to join the COBOA, Click Here to fill out an application.

---
Not a Licensed Official?

Click Here to go to the OHSAA page for becoming a licensed official.

Welcome to the COBOA
Plans for local meetings and continued education will take place via a single platform from OHSAA this year...no in-person or electronic COBOA meetings will take place for the 20-21 season. Stay tuned for more information, updates and details from OHSAA. Additionally, membership dues for the 20-21 basketball season will not be collected...all paid up and active members will remain members in good standing.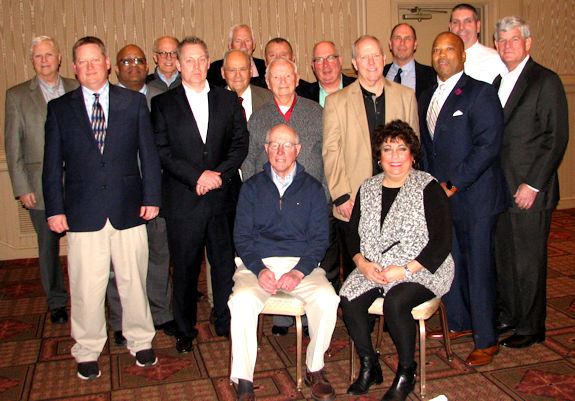 Past Presidents who attended the 2019 COBOA Banquet
Ask the Expert
Player A ends their dribble near the free throw line. While pivoting and looking to pass, they find themselves with an unobstructed shot. Instead of shooting, the player throws the ball off the backboard to themselves, moves to catch it, and then lands with the ball. Is this a violation? If it is not a violation, what is the player permitted to do once they land with the ball? Case book 9.5 touches on this scenario, but does not provide clarity outside of saying that the player can catch the ball after passing to themselves off their own backboard. This was not an alley-oop to themselves, as the player came back to the ground with the ball with no shot attempt. Click Here to read the Expert's answer.