Join the COBOA
If you wish to join the COBOA, Click Here to fill out an application.

---
Not a Licensed Official?

Click Here to go to the OHSAA page for becoming a licensed official.

COBOA News
Final Reminder....please see below for message sent out two weeks ago regarding the OHSAA Tournament Self Nomination Process. The OHSAA Tournament self-nomination process is now open and will be open until midnight on Sunday, January 24. If you wish to be included on the COBOA ballot, please self nominate via your personal profile on the COBOA website. If you wish to nominate for both boys and girls, you must check both boxes. One condition that is unique to this year's process is the "games worked" element. There is not a minimum game requirement for this year. In other words, you do not have to meet the normal requirement of 10 varsity games per gender to nominate for both or 14 varsity games for a single gender nomination. Please be advised that self-nomination is your personal responsibility. If you do not respond by midnight on January 24, you will not be included in the voting process.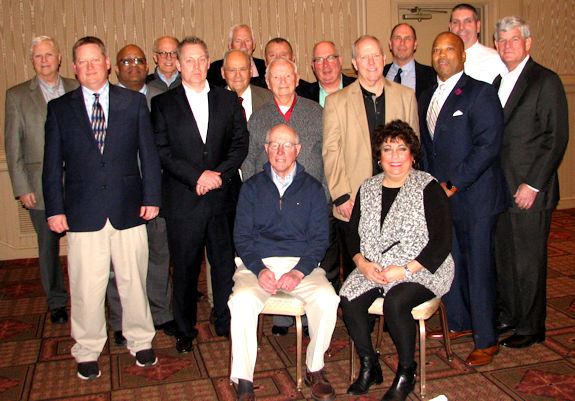 Past Presidents who attended the 2019 COBOA Banquet
Ask the Expert
A1 shoots free throw following a made basket and foul. FT hits rim but official under basket blows whistle and says "Ball did not hit rim". No clear rebound on the miss by either team (not that I think that makes a difference). Team A has possession arrow. Once play was stopped due to whistle where does play resume and who gets ball? Click Here to read the Expert's answer.