Join the COBOA
If you wish to join the COBOA, Click Here to fill out an application.

---
Not a Licensed Official?

Click Here to go to the OHSAA page for becoming a licensed official.

Welcome to the COBOA
Welcome to the newest members of COBOA: Logan Greenlee, Tate Fishman, James Perdue, Emma Anderson, John Kenerly, Mike Dissett, Marlin Yarborough, Austin Burgoon, Demetrius Pate, David Moore, Ashlee Graves, Christopher Strickland, Nicco Bracone, Deontay Scott, Jarrod Hart, Emily Murphy, Terrance Tilford, Warren McCord, Princess Hollingsworth, Adam Haemmerle, Kevin Dunnigan, Emma Blankenship, Brady Fleming, Kevin Hinkle, Mark Cox, Anthony Montarsi, Andrew Rude, Emma Anderson, Art Harper, Christopher Grant, Bradley Brunicardi, Colton Plageman, Alfred Edwards, Courtney Hayworth, Owen Menge, Kevin Houston.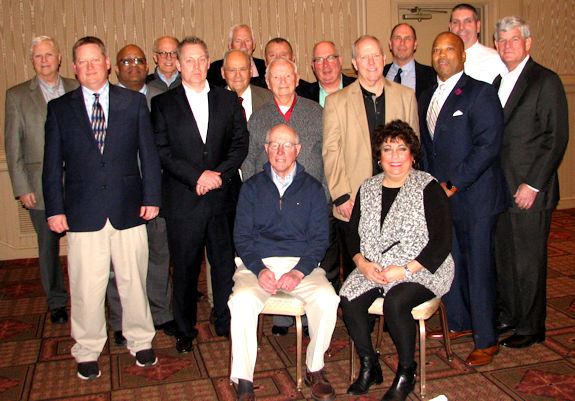 Past Presidents who attended the 2019 COBOA Banquet
Ask the Expert
Kurt, In the back court violation question, 3rd one down, what was A2's court status when he jumped in the air to receive the pass from A1? If he was in the front court when he jumped in the air then we would have a violation when he lands straddling the line, because he had front court status at the time. Wouldn't you agree? Click Here to read the Expert's answer.